Since PlayStation Tournaments first launched on PS4 in 2016, our mission has been to bring the thrill of competitive gaming to players of all skill levels. Today, we're excited to reveal an all-new on-console tournament experience coming exclusively to PS5. 
PlayStation Tournaments on PS5 will remove common barriers in the tournament experience to bring you smoother and more meaningful competitions. It all starts with a public beta we'll roll out in the coming weeks, in select countries.
PlayStation Tournaments are on-console competitions where players can compete against each other to win prizes across PlayStation events, challenges, leaderboard competitions, and much more.
The next generation of PlayStation competitive gaming will include new features and improvements, making the experience of finding and joining competitions easier. 
Some of the new features you'll find in PlayStation Tournaments for PS5 include:
Easily discoverable tournaments: Tournaments will be reachable from familiar places like the PS5 Control Center and Game Hub, making it simple to find the competitions you want to join. You can access tournaments by launching the Control Center with the PS button while an eligible game is open.
Seamless on-console signup: Registration can be done quickly and easily, straight from the PS5 console.*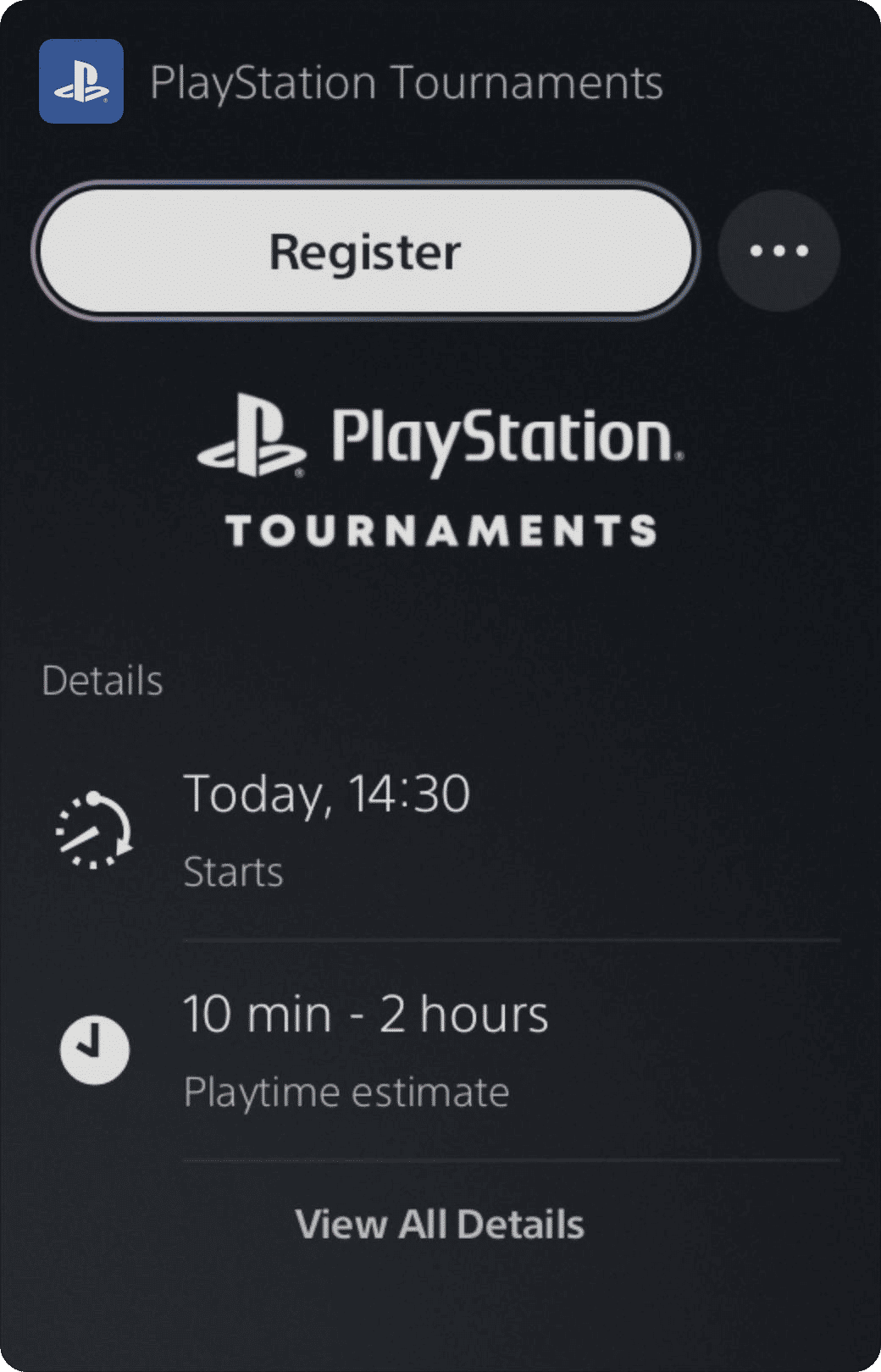 Shorter tournament times: Bracket capping is a new mechanic we're bringing to PlayStation Tournaments. Traditionally, tournament length increases when more participants compete. To minimise this effect, bracket size will be capped to ensure a standard duration for every tournament. If a cap is exceeded, multiple independent brackets will be created for the same tournament.
Higher tournament frequency: Tournaments will be offered at more often and regular intervals, so players with different schedules can find a more convenient time to compete.* 
All-new UI: PlayStation Tournaments on PS5 comes with a brand-new UI built into the action card framework. You can pull up your bracket and other information about the tournament through the Control Center, even while playing a game. The interface creates a smoother tournament experience from start to finish, with the information you need right at your fingertips.
Real-time match results and automatic reporting: Match results are instantly displayed and automatically reported as you progress through the bracket, and you can see the status of the entire bracket at any time.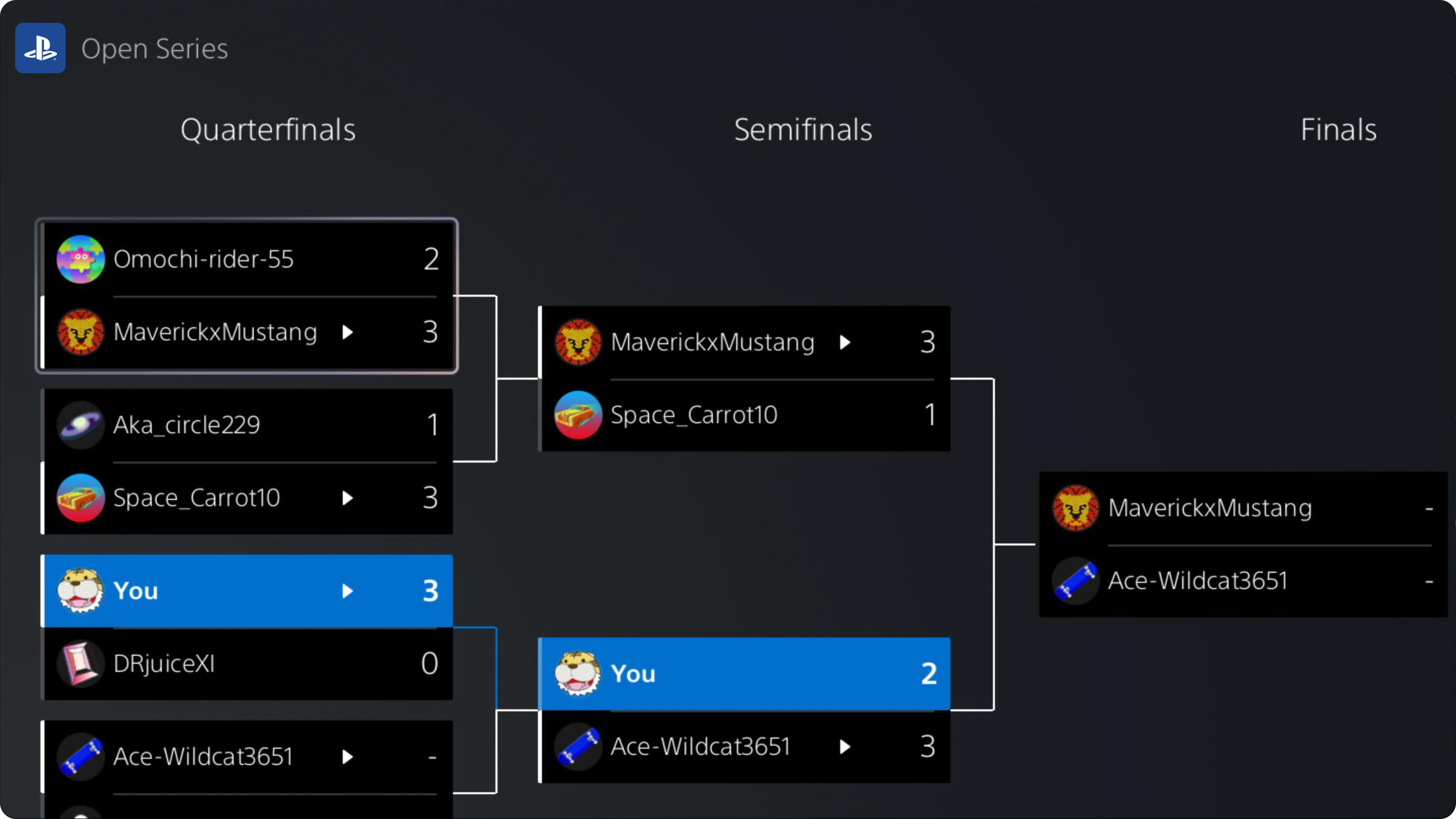 *All game and user-related content is fictitious. Used for demonstration purposes only.
Prizing: Each tournament will have prizes up for grabs. Some tournaments will even offer unique rewards just for participating. All eligible players have equal access to a shot at the offered prizes regardless of skill level.
These are just a few of the new features we're delivering with the new PlayStation Tournaments experience on PS5. Our goal is to bring you seamless on-console tournament experiences with a diverse selection of titles and easier ways to join and compete for exciting rewards. 
The upcoming beta is just the start of our journey and we'll be listening to your feedback and adding even more features in the future. We can't wait to share more details soon, including the beta launch date, countries, and supported games – and a deeper look at the all-new UI. Stay tuned for more information!
*To participate in a PlayStation Tournament, users must be a resident of an eligible country, have access to PS5 versions of PlayStation Tournaments supported games and have a PS Plus membership and internet connection. PS Plus is a paid-for ongoing subscription with a recurring subscription fee, which is charged automatically at the then-current PS Store price at the frequency chosen until canceled. Full terms apply: see PSN Terms of Service and PS Plus Usage Terms at www.playstation.com/legal.
*See PS5 Control Center and Game Hub to view upcoming tournament times.