Play without pressure in the FIFA 22 PlayStation Tournaments: Flash Rounds. Our new tournament format features single-match events for a more fast-paced competitive experience. There are no qualifiers, eliminations, or monthly finals. Only match after match. 
Win more games to earn FIFA Points each month. Take on as many Flash Rounds as you like, no matter when you triumph, you will always make progress toward monthly prizes.
Active PS Plus membership required. Must be 16+ and a member of an eligible country. Void where prohibited. See full rules.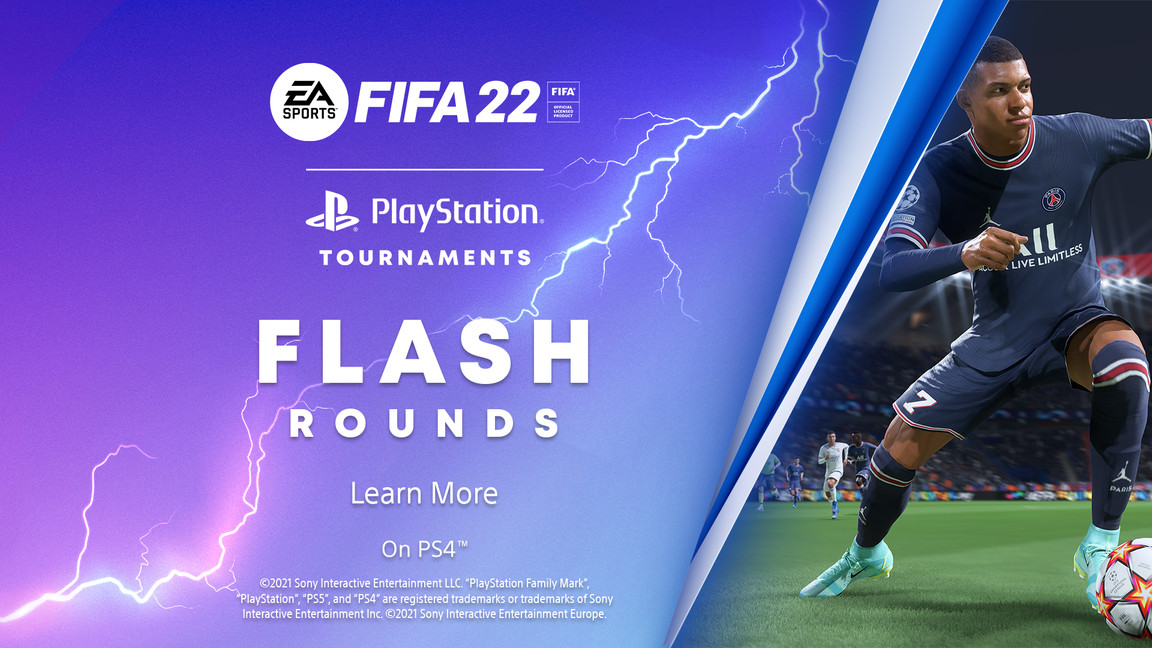 Schedule
Join any of the free weekly tournaments to gain invaluable competitive experience. There are multiple tournaments every Monday and Tuesday. 
Wins carry over from each Flash Round, so you'll have plenty of opportunities to get better at the game each month.
Format & Prizing
Kickoff against opponents in one-on-one FUT matches, then receive prizes based on how many games you win throughout the entire month. Play at your own pace in any number of tournaments for a more fulfilling FIFA experience. Wins reset at the end of every month.
You miss 100% of the shots you don't take, so why not give yourself as many chances as possible to compete?
| Place | Prize |
| --- | --- |
| Gold (9 wins) | $50 |
| Silver (6 wins) | $20 |
| Bronze (4 wins) | $10 |
Sign up, have fun, and win rewards while you build a reputation for yourself in FIFA 22.