Watch the US Finals Live!
FIFA 20 PS4 Tournaments: Pro for a Day

PlayStation is teaming up with some of the biggest names in esports to give FIFA 20 players the opportunity to step up to the global stage and represent their favorite esports teams as Pro for a Day. Dribble through team-specific qualifiers, slide tackle the Team Final for the right to represent the team, and advance downfield to the Grand Final to kick off against other Pros for a Day and score cash prizes.*

*Active PS Plus membership required. Must be 16+ and a member of an eligible country. Void where prohibited. See full rules.
Pro for a Day Schedule
Get your head in the game during any of the open qualifiers for the opportunity to net a spot in the Team Final and potentially represent either Complexity, Misfits Gaming, Team Envy, or Team Liquid. There are 16 total qualifiers. Every team hosts four, so double down on your favorite or enter them all to increase your likelihood of walking out into the Country Finals.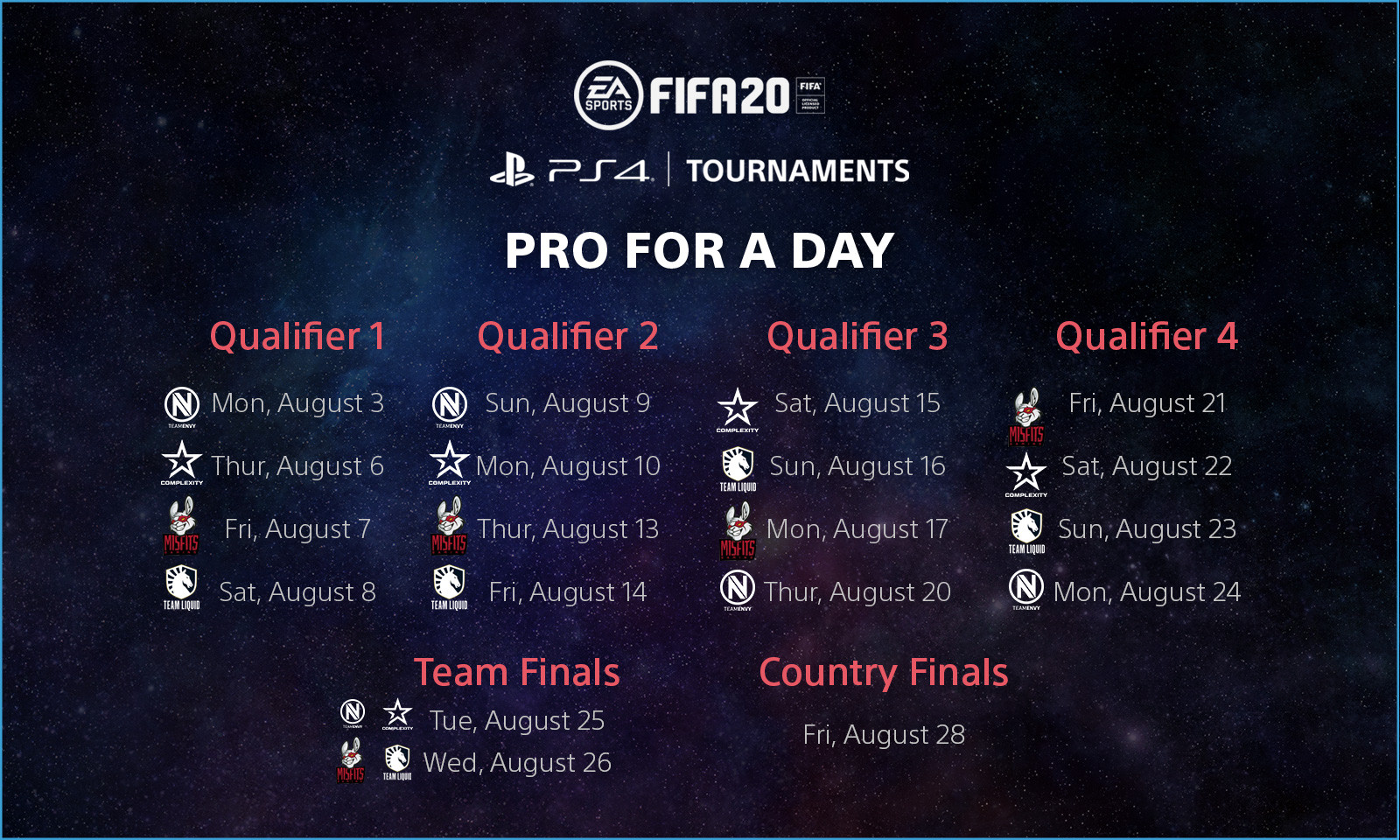 Tournament Format & Prizing
Open Qualifiers
Dominate the pitch for a shot at representing a professional organization in the Team Final. Finish in the top 32 to step up to the next stage of competition.

All tournaments are swiss format, Head to Head matches (no FUT). Fortify formations and sub players to patch any holes in your gameplan. Lose twice and you're on the bench, but win enough and you'll find yourself one step closer to the goal line.
Team Final
Nail your shots and hold onto the ball to gain more than just possession throughout this single-elimination bracket. First place moves onto the Country Finals as a representative of one of the biggest esports teams in the world. Top finishers also get a gold card in the form of cash prizes.
| Placement | Prize |
| --- | --- |
| 1st | $500 + a spot in the Country Finals |
| 2nd | $250 |
| 3rd | $125 |
| 4th | $125 |
Pro for a Day Country Finals
The representatives of all four teams will clash to determine their nation's champion live on stream across group stage showdowns.
| Placement | Prize |
| --- | --- |
| 1st | $1500 |
| 2nd | $500 |
| 3rd | $250 |
| 4th | $250 |
Want more? Sign up for the FIFA 20 Open Series and continue competing online in PS4 Tournaments!
UK Finals