ArnKratos is Europe's second Mortal Kombat 11 Open Series Monthly Final champion.
The Shang Tsung specialist and one of the more vocal players for the Upgraded Jacqui ban, faced his demon in the form of Damastir, one of Russia's best Upgraded mains. ArnKratos' high-level Soul Eater Shang Tsung performance earned him the nickname, Shang master, from Ketchup.
DatProStunner, last month's champion, was noticeably absent from the broadcast round. The rest of the bracket included Open Series veterans like YP_lilbopeep, NightBrodyaga, Mr.Ramires, Murko, Rankz420, Fabz, and more.
Europe Bracket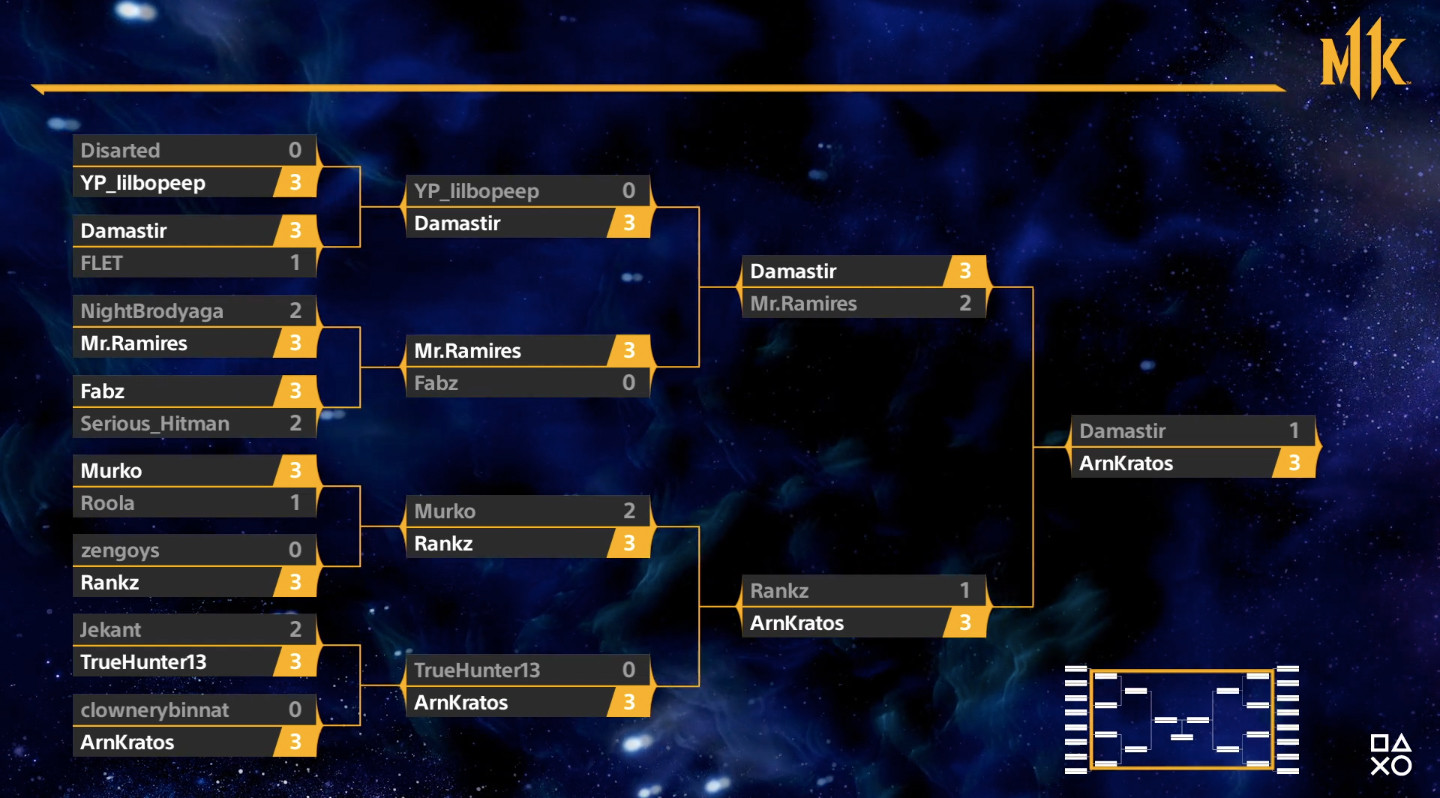 Open Series Monthly Finals feature the top 8 finishers from all four weekly open qualifiers. Weekly Invitationals are double-elimination, while Monthly Finals are single.
| | | |
| --- | --- | --- |
| 1st | ArnKratos | $400 + 5,600 Time Krystals |
| 2nd | Damastir | $300 + 2,500 Time Krystals |
| 3rd | Rankz420 | $200 + 2,500 Time Krystals |
| 4th | Mr.Ramires | $100 + 2,500 Time Krystals |
Semifinals: Damastir (Jacqui Briggs) Vs. Mr.Ramires (Sindel) 3-2
Mr.Ramires beat Nivek, one of the world's best players, to reach the top 16, meaning it was no fluke he held his own against Damastir in the semifinals. Mustard noted the Russian meta has a lot of Sindels to counter Upgraded Jacqui. Regardless, the set was close.
Damastir crossed up Mr.Ramires and dominated game 1 with ground pound, kick, and punch mixups.
Game 2 was a lot more competitive thanks to Mr.Ramires grabs and screams for consistent combos. He even nailed the Fatal Blow scream confirm in the corner to take the lead, but Damastir responded with a swift round 2 victory via the usual Upgraded tactics. Five hair grabs later and Mr.Ramires tied the set.
The Upgraded main patiently blocked Sindel's spear to start a string that dealt major damage, culminating in the opportunity to finish the first round of game 4 with a Fatal Blow. Mr.Ramires nearly won the next with a flawless victory, only for Damastir to whittle him down to Fatal Blow range before falling. Fortunately for Damastir, his confidence wasn't knocked out and he pushed the set to game 5 using Jacqui bread and butters.
The set went to the final round following back to back one-sided romps. One execution error and a dropped combo from Mr.Ramires was all it took for Damastir to advance to Grand Finals.
Semifinals: Rankz420 (Raiden) Vs. ArnKratos (Shang Tsung) 1-3
Baraka versus Shang Tsung is tough for Baraka to get in, so Rankz picked Raiden. Rankz whiffed a decisive Fatal Blow to lose the first round, then ArnKratos narrowly sealed the game with an unsafe slide mixup after a choke combo drop that put Rankz in the corner.
Rankz played well, just inconsistent, dropping another combo in game 2, but was able to equalize the set using Storm Cell despite inputting the Fatal Blow before it was back.
Raiden's teleports were often punished, although that didn't stop him from sneaking behind the warlock. ArnKratos used the Ermac transformation to start combos and rack up most of his damage game 3.
A Super Kick, Ermac combo shaved off 35% of Raiden's health, but the real kicker was Rankz dropping another Storm Cell corner combo that cost him the set.
Grand Finals: Damastir (Jacqui Briggs) Vs. ArnKratos (Shang Tsung) 1-3
Facing one of Russia's best Upgraded players was a true test of ArnKrato's skill.
ArnKratos took 80% of Damastir's health and round 1 with Ermac throws. The full-screen Dash Punch Krushing Blow connected to start off the second, immediately putting Damastir in a better position than the last. However, Damastir couldn't stay on his feet with the warlock tossing and kicking him every which way.
"ArnKratos might hate the matchup, but he's still good at playing it," said Ketchup as ArnKratos took the first game.
Overhead mixups, Super Kicks, and more Ermac throws annihilated Damastir game 2 and left Ketchup and Mustard joking over whether or not ArnKratos actually hates the matchup because of his stellar performance. Both games even ended with the same Ermac move, although to Mustard's dismay, no hidden Brutality inputs.
The pressure got to Damastir at the beginning of the third game as he failed to act out of flawless blocks. Then something clicked for the Russian pro and he got on the board with a 2-0 victory courtesy of ground pound chip damage, low juggles, the signature Jacqui triple uppercut combo, and the Dash Punch.
Turn after turn passed with steady damage throughout Game 4's second round. The slide mixup into a kick and the head chop Krushing Blow ended Damastir and the Monthly Final.
Soul Eater Shang Tsung took more than just souls in this tournament. ArnKratos took home the title of Europe's champion.
Step into the Open Series Ring!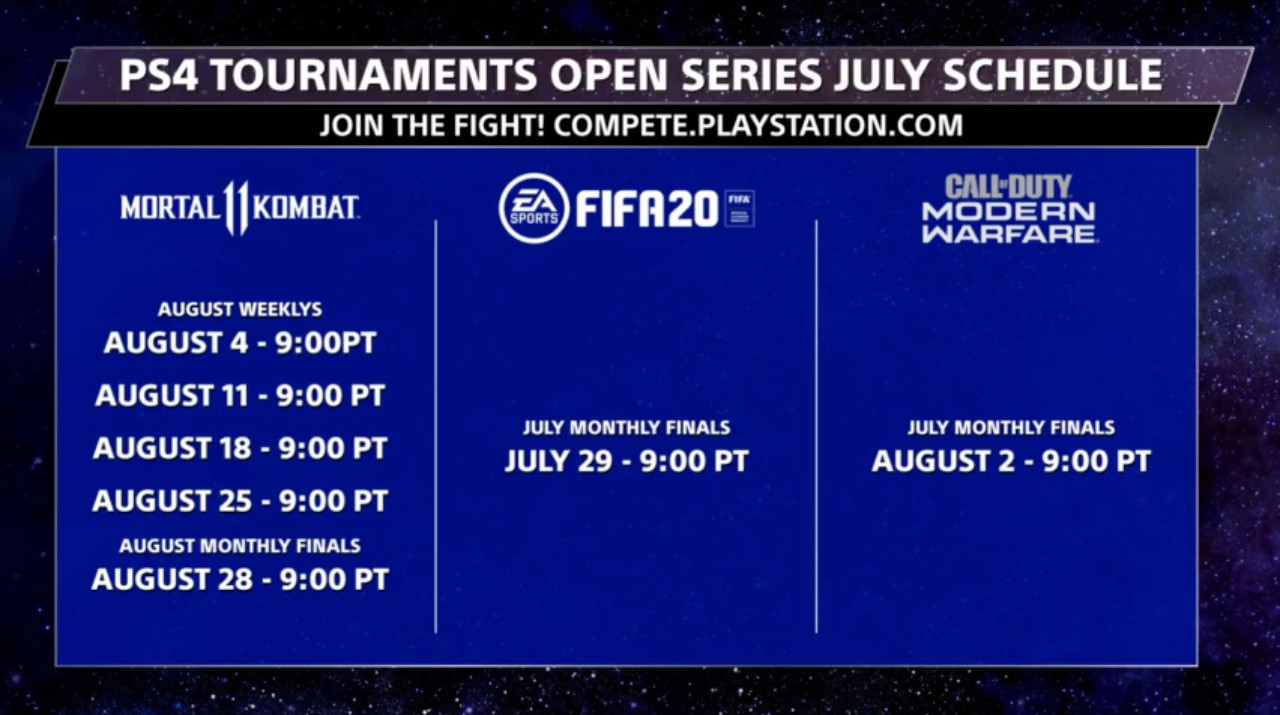 Take your game to the next level and join the Open Series to win prizes simply for playing. You might even become the next champion.