Send your best squad onto the pitch for a chance to net a PlayStation 5, a custom eMLS jersey, and a piece of the 40,000 FIFA Coin prize pool in the FIFA 21 FUT PS4 Tournaments: eMLS Fan Challenge. Players must be at least 16 years old and reside in the United States. Terms and conditions apply.
There are three online tournaments (one per month), meaning three opportunities to dribble through the Swiss rounds for a shot at the grand prize. Reach the top 64 and at the very least you'll receive FIFA Coins to improve your team for tournaments in the months to come.
Registration is free, so take your team to the next level. Can't get enough competitive FIFA? Join the Open Series and tune in to all of the eMLS League Series 1 action on January 16 – 17.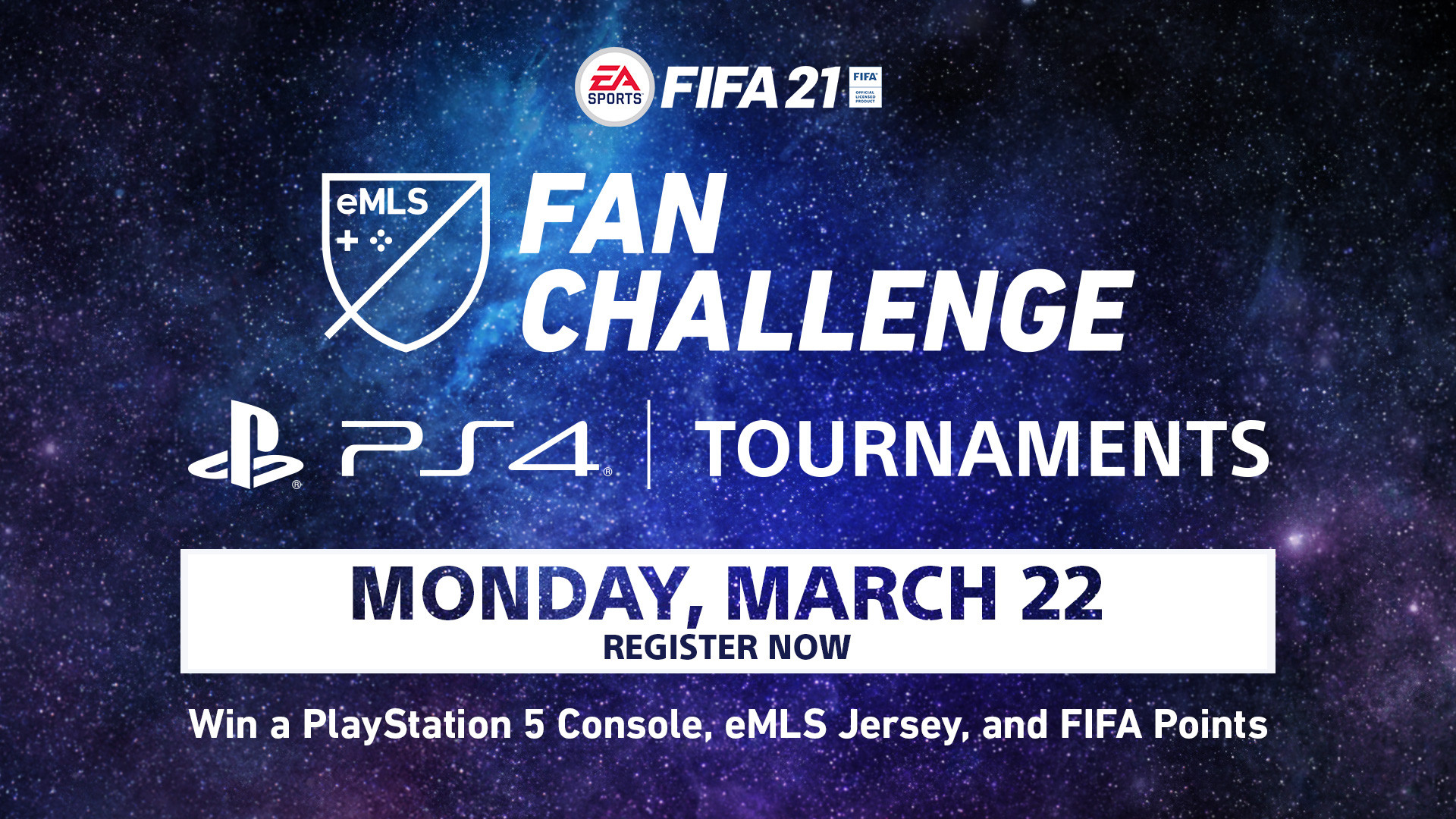 Tournament Dates
Prizes
The rewards are the same for every tournament.
| | |
| --- | --- |
| 1st place | PS5 + Customized eMLS Jersey + 4,600 FIFA Coins |
| 2nd place | Customized eMLS Jersey + 2,200 FIFA Coins |
| 3rd - 4th place | Customized eMLS Jersey + 1,600 FIFA Coins |
| 5th - 8th place | 1,050 FIFA Coins |
| 9th - 64th place | 500 FIFA Coins |
Tournament Format
Region: United States
Mode: One-on-one
Seeding: Random player seeding
Style: The first four rounds are Swiss. No elimination and players are matched against opponents with the same record.
Players with a 4-0 record will advance to the single-elimination round.
If there are less than 16 players with no losses after four rounds, then additional players will join the elimination bracket.
Match Rules/Settings
Game mode: FIFA Ultimate Team
Duration: 12 minutes (6 minutes per half)
Controls: Any
Game Speed: Normal
In case of draw: Extra time and penalties if necessary
Tiebreakers
First: Accounts for the sum of the opponents' wins (Buchholz system).
Second: Uses your win/loss sum.
Third: Based on the win/loss sum of the people your opponents played.
How to Join Your Game Lobby
The match schedule is viewable on your PS4 in the My Events tab.
Access the match event page.
Click "Join Now" during your scheduled match time.
The result will automatically register at the end of the game.
No show opponents
You have 10 minutes to show up to a scheduled match, meaning the actual start time is 10 minutes after the assigned one. No shows after 10 minutes will receive a loss. The player that is waiting must create a support ticket via the match event page on console.
Match Disputes
Players can create disputes to resolve any issues under the "Go to Support Page" option on the PS4's main event page. Players are responsible for providing proof of match results such as screenshots or video replays in the case of disputes.
Disconnects
Players that disconnect will have 5 minutes to connect to their opponent before forfeiting the game.