Dylan "Envoy" Hannon is a professional Call of Duty League player for OpTic Chicago, one of the most visible players with more than 150,000 Twitter followers, and a favorite to win this year's CDL Championship.
Envoy took some time out of his hectic schedule to answer a few questions about his playstyle, what he'd be doing if he wasn't gaming, and how he's going to celebrate "when he wins champs." Plus, tips for COD players that want to go pro.
When was the first time you played COD?
I started playing COD 2 but really grinded on Call of Duty 3. I chose to play the Medic because of the nature of the role. Even today, in my competitive team, I am the support player.
Halo is similar to COD. I fell in love with it and the sniper. But when Halo stopped releasing, and COD released yearly, I played it more. COD is my domain now but I am excited for the new Halo release in my off season.
When did your love for COD turn more competitive?
My first tournament was 2013 Call of Duty - but I played online, not at events. Advanced Warfare was my first live event - I played against pros because it was a pro league and I finished in last place. By the end of Advanced Warfare, I placed 6th.
After this competitive run, the leagues raised the playing age to 18; I was only 14. Because the rules required it, I took a hiatus from competitive gaming, but sought a new type of competition: lacrosse.
How did lacrosse influence your career?
I decided to figure out what type of a person and player I am and learn how to win. Looking back, my experience as the Captain of the Lacrosse team in high school and 4 years of competitive play helped me understand myself as a player. I learned how to manage my thoughts and opinions and convey them in a productive way.
Speaking of productive opinions, what's your favorite part of playing for OpTic Chicago?
The Fans. The Greenwall are the best fans in Gaming.
Fans often inspire players to get better. What is something you're really trying to improve in your gameplay?
My career has had a lot of highs and lows. I choose to push through the lows and figure out where I should be and what I need to work on.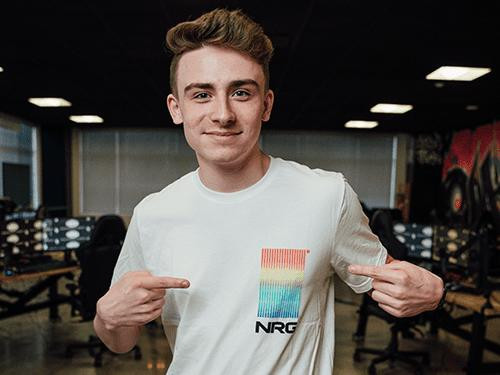 This season, I strive to be as consistent as I can be in all play - in my communications, in practice, in a match. I work on it every single day. I know when key moments come, I will be prepared because we tend to fall into our tendencies when it is hard, and with the work I have done, I will be able to play strong.
Besides strong, how else would you describe your playstyle?
Consistent, unpredictable. My job is to move the fastest on the map and make the right plays. It is tricky to find the perfect medium of being fast and not too fast - there is a fine line.
I talk to my Dad about "stepping back," like a quarterback might, and looking at the map and using observations to make calls based on what I see.
Quarterbacks don't shy away from epic Super Bowl celebrations. How are you going to celebrate if you win the CDL this year?
WHEN I win the Champs, it will be the best night of my life. This is something I have been working toward since I was 14. I am not counting last year since there were only 8 teams and some were online.
I know what second place is and what not winning feels like. It's time to win.
You're certainly making the most of your time, but what if you weren't a pro gamer? What would you do?
A teacher. This answer is in contrast to the horrible student I was in high school. But, I feel like I had a few cool teachers that took the opportunity to teach kids differently and key lessons and I wanted to be like that.
Or, maybe a physical therapist. Having played competitively for my career, I know how important this individual is for athletes - and not just Lacrosse players. In gaming, it is important for athletes to be mindful of their health. During quarantine, I would drive down to an empty field and shoot Lacrosse by myself because it was therapeutic.
Great mental health tip. What are some other tips for players that want to go pro?
It is simple: self-awareness. Where you are at, where you need to be, how to get there. I took this approach to my playing. I knew that if I added incremental steps together, I would be complete.
Self-identify what to work on - in-game, out of game or team, or even being in the wrong circle. There are a lot of different aspects of gaming that contribute to the win - what you're influenced by, how you take care of yourself overall, and mental health, too.
Thanks to Envoy for the Interview! Follow him on Twitter for more Call of Duty insight, then take the next step in your COD journey.