PlayStation Challenges on PS5 - Sackboy Knit-Speedrun Challenges: Short Circuit Training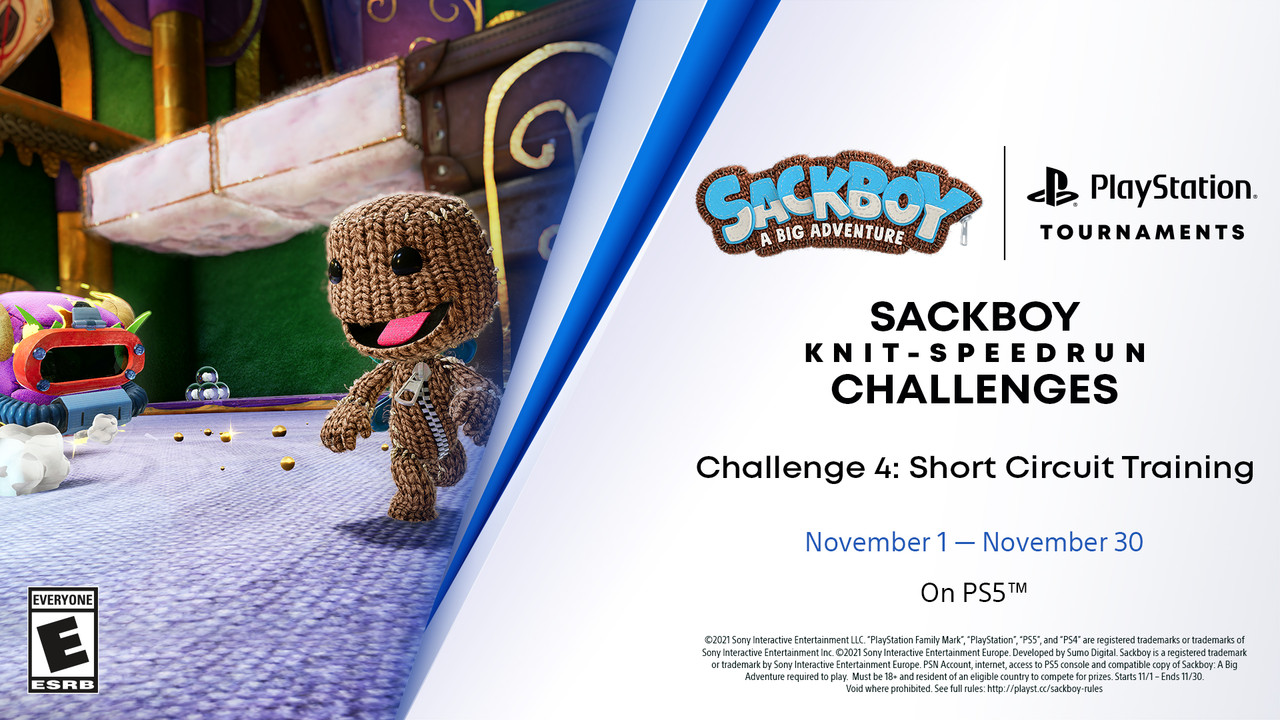 Strive for positively shocking results in November's trial. Short Circuit Training features electric obstacles so get ready to conduct your fastest times onto the Sackboy Knit-Speedrun Challenges leaderboard. Earn exclusive costumes and prizes whether you stroll though the course once like a leisurely sackling or buzz through multiple times like the legendary Knitted Knights. Show that leaderboard some sackitude with faster times to earn more rewards. The next prize might be just one more zap away.
Must be 18+ and a member of an eligible country. Void where prohibited. See full rules.
How to Play
Every Sackboy Knit-Speedrun Challenge lasts one month. You can play as many times as you want, but only your fastest run will appear on the leaderboard. We'll introduce a new challenge and prizes every two months, turning the previous rankings topsy-turvey. Get ready to zap to the top!
How to Join
There are two ways to sign up for this free competition on PlayStation 5:
Game Hub Activity Cards: 
Open the Game Hub for Sackboy on your PS5 and scroll down to the Activity Cards. Click the one with the PS5 Tournaments crown to view the Challenge and enter.
In-Game:
Go to the Knitted Knight Trials through the menu or World Map. A PS5 Tournament prompt should appear. Press Triangle to compete.
Prizes
Need more fun and frantic platforming in your big adventure? Race against time in extremely perilous situations for a stylish, new wardrobe. 
| Prize Tier | Prize | Leaderboard Rank |
| --- | --- | --- |
| Bronze | 1000 Collectabells | Anywhere (Requires only participation during a Challenge Period). |
| Silver | Challenge Squire Gloves + Bronze Tier Prize | Top 50% or higher |
| Gold | Challenge Commander Belt + Silver and Bronze Tier Prizes | Top 30% or higher |
| Platinum | Challenge Captain Gloves + Gold, Silver, and Bronze Tier Prizes | Top 15% or higher |
| Diamond | Challenge Herald Gloves + Platinum, Gold, Silver, and Bronze Tier Prizes | Top 5% |
In the case of a tie, all players with the same score will be awarded prize(s) based on their rank and tier.